Minor Officials
---
Community League Event Volunteer Minor Official Sign-Up:
Minor Officials will sign up for time slots to officiate at Community League games, Provincial events, or the Provincial Elite League games. The minor officials will have an opportunity to run both the game clock/score keeper role, as well as the game sheet role.
**Please remember to register as a Minor Official with your respective clubs on their RAMP registration site.
New minor official members can take online training course below, and must complete registration with WPS to add course registration package.
---
Water Polo Saskatchewan presents our new MINOR OFFICIALS online training course!
This course is recommended for all new minor officials.
Course Overview:
Game Clock Keeper
Possession / Shot Clock Keeper
Game Secretary
Exclusion Secretary
Goal Judge
---
Process for course registration:
Course registration and modules can be completed at the link below:
Account Creation: Please use the same email to create your account as you use to register as a member on the RAMP database (with club or WPS)
Course Info: 5 modules with knowledge checks after each video; time commitment = approx. 45 minutes
Fee: $31.00 (includes minor official registration, Official t-shirt, and practical experience from mentor during CL events)
Payment Type: Credit Card
**payment will be made after course completion at time of minor official registration on WPS registration page (RAMP)
Info to collect at completion of course:
-- Password for accessing minor official course package
Course Completed - Next Steps (2):
1. Register as a minor official with WPS.
- Link will also be provided at the end of the course. A password (provided at the end of course) is required to register for course and as a minor official.
Account Creation: Members can use the same login used to register for club participation.
Fee: $31.00 total
-> $15.00 for the minor officials course package (needs to be added at time of registration)
-> $16.00 for minor official registration (covers the cost of insurance as a member on pool deck)
Payment Type: Credit Card
WPS Registration Site - RAMP Database
**After login, select "Official Registration", and select "Minor Official" from the drop down menu.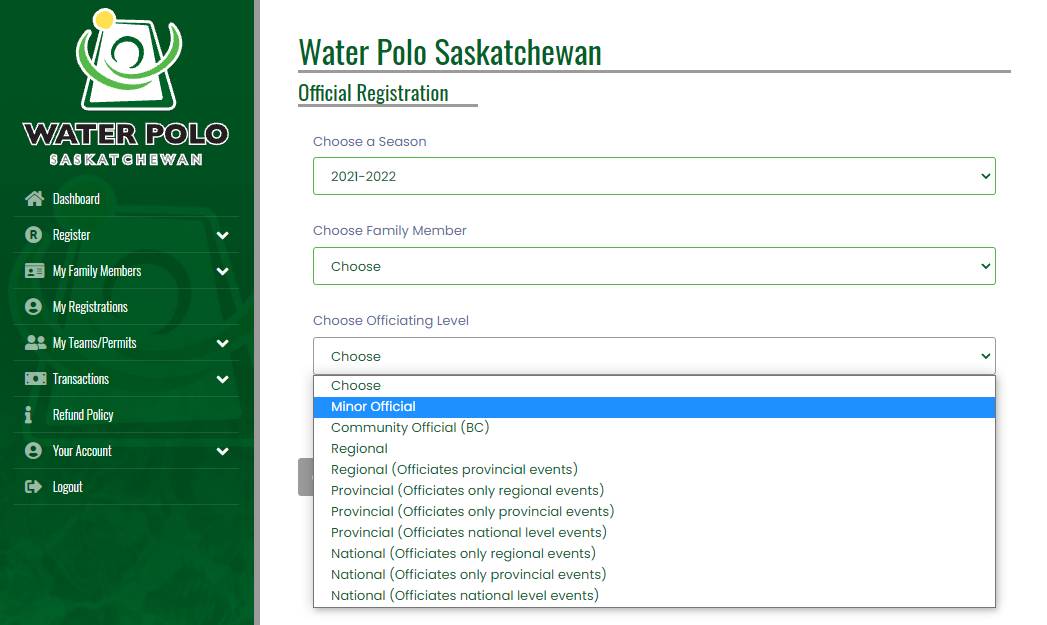 2. After registration as a minor official & the MO course is complete, each minor official will be asked to sign up for a minimum of 1 hour (4 CL games) of practical experience.